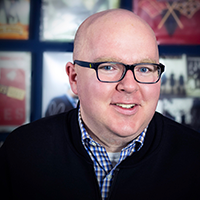 As an award winning system designer and trusted voice in the world of church production, Tim is unique for his "triple threat" expertise in high impact audio, broadcast video, and theatrical lighting systems as an end user, designer, engineer, commissioner, and trainer, balanced with his passion for the mission of the local Church. His experience makes him laser focused on adding value through constantly envisioning ways to help clients reach higher levels of impact and execution with always limited resources. He is at his best when allowed to take on the role of a challenger in the process to disrupt current thinking, challenge norms, build consensus around constructive tension, and translate the results of that tension into a highly immersive, intentional environment.

He leverages this experience for leading technology provider Diversified, one of the oldest, largest and most respected System Integration firms in North America, serving as Director of Strategic Accounts for the House of Worship market, specializing in assisting churches around the United States throughout the process of developing a new space, environment, and/or production system.

Prior to joining the Diversified team, he spent 8 years with two Houses of Worship-focused System Integrators as a Senior River Guide earning numerous awards and features, 13+ years as Audio Director, Production Director, and Contractor for several of the fastest growing churches in the country at the time, 8 years in sales and engineering of luxury residential automation, home theater, and control systems, and still serves today as an in-demand audio engineer for several of the largest churches and Christian conferences in the country.​​​​​​​

Meyers-Briggs: INTJ

StrengthFinders: Strategic, Achiever, Learner, Responsibility, Input
Thank you for reaching out to me. I will be in touch soon!